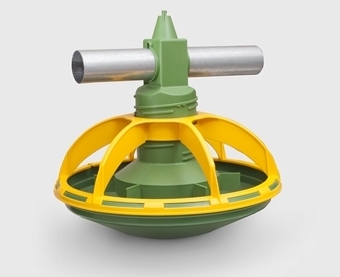 OUR BASIC FEEDING SYSTEM FOR BROILERS
FEEDY is our pan feeder with manual regulation: a reliable system made of special non-toxic, shockproof and acid-resistant premium quality plastic.
Each feed line presents feeding pans installed every 75 or 100 cm and includes three feed level probes (one placed at the beginning of the line, inside the main hopper, the other two at the end of the line) that ensure a uniform distribution of fresh feed in all pans. The double pressure switch at the end of the line stops feed distribution when the desired level is reached or in case of emergency.
Sperotto feeding systems are the only ones in the world to have the drive unit and the hopper placed at the beginning of the line: the auger conveyor pushes the feed uniformly up to 150 m, also offering the possibility of a quick inspection of the drive unit positioned at the head of the building.
FEEDY can also be supplied with telescopic pans for its use in cage.